Yesterday afternoon I joined several people in the ongoing dialogue on the topic of value, specifically the value of the artist/curator in the art industry. Chagrin I missed the weekly conversations which took place at Central Trak beginning April 18th yet caught up in a way as the walls void of "art objects" such a paintings, drawings, and the like were full of an alternative visual stimulator, text. The words included complaints, desires, and ultimately solutions related to the topic at hand.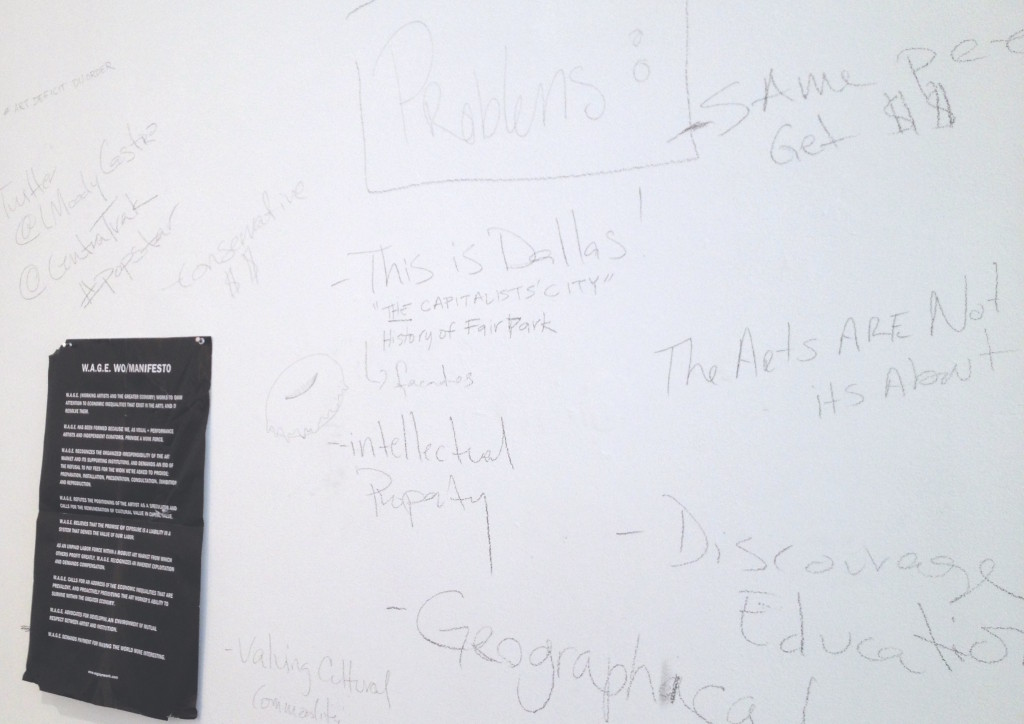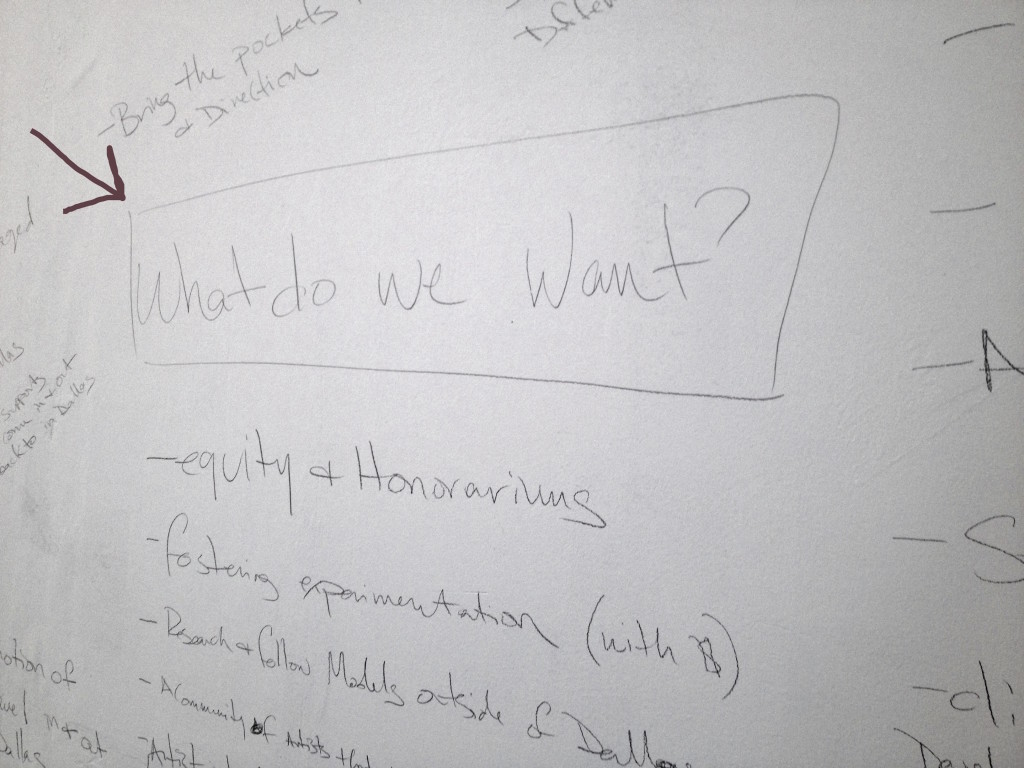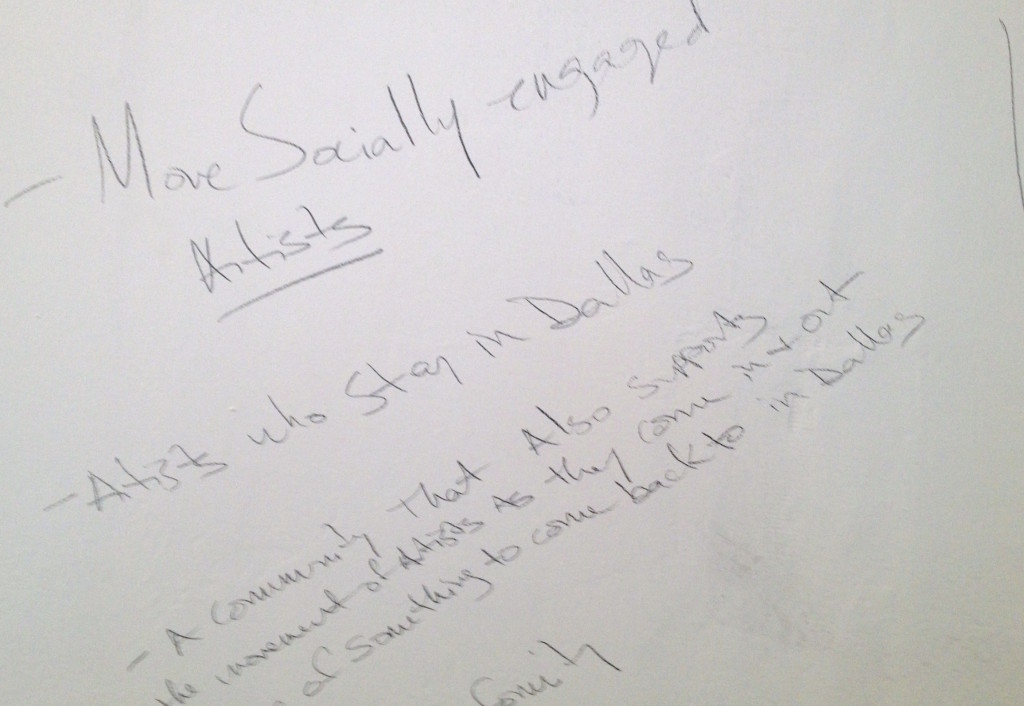 Thanks to a problem, artist and independent curator Leslie Moody Castro, rather than forcing a curatorial exhibition with objects and artifacts, decided to "produce weekly articles that explore the relationships between value and the visual arts in Dallas, the United States, and even internationally.  Thus, CentralTrak's exhibition space will be "empty", and will be a metaphorical and conceptual reflection of the intellectual property, capacity, and the time spent curating an exhibition with little, or no existing budget." (Central Trak website)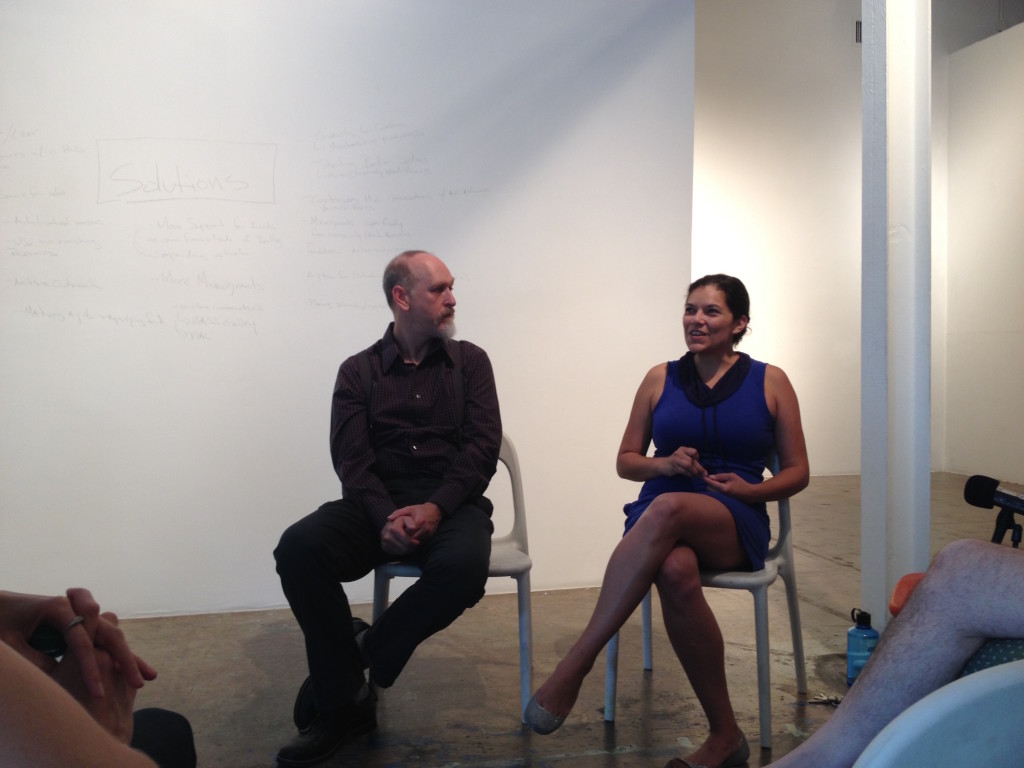 Thus, conversations began at Central Trak, taking on the role as an incubator for discussions. The public was invited via their website and a variety of social media sites. As far as I understand there have been a core group of people who have attended every conversation while many took part in at least one or two. To catch me up Moddy Castro pointed me toward each wall where thoughts, ideas, rants, complaints, desires, and solutions were given validity. These ephemeral feelings and hopes typically get squelched or even disappear under the weight of everyday life. Yet it seemed to me that this time they did not. There on the wall, as if objects and even artifacts created by a variety of artists in the area an "exhibition" of sorts proclaiming truths often shared yet typically set aside to honor what has always been, a struggle.
Central Trak Director, Heyd Fontenot, served as moderator and collaborator alongside Moody Castro. Intelligent, honest, vulnerable, thoughtful, and with years of experience in working with others as liaison, agent, curator, and leader/supporter both created an atmosphere which allowed me to feel comfortable and willing to share my thoughts openly and equally as honestly. It seemed to me others must have experienced a similar sense as most in attendance pressed thoughts of particular passion and desire for the arts in Dallas.
Several big ideas regarding how to create change in the dynamic of art venue, patrons, and the artists, especially local artists. Discussions revolving around the Dallas Art Fair and how to respond to its success and it failures. Do we ride on the coat-tails of the fair or do we create works or a dialogue of criticism of the venue/event. Someone brought up the reality of differing opinions about venues such as the fair many don't see the fair as extravagant or unrealistic while many do, stating that some of that expense could go to scholarships, grants or support for local artists. A response to this was the statement I won't forget, "this isn't a competition is about ecosystem".
A woman sitting in the back with her adorable dog pressed the idea of making one thing happen so that all these efforts, thoughts, ideas, and energy don't fall flat one more time. Needing to leave the gathering early, this long time supporter of Central Trak, reiterated please don't conclude the time together without scheduling one action.  Discussing a few possibilities both Darryl Ratcliff and an artist he has been working with brought us to an understanding of how much a casual gathering around a meal is worth. Ratcliff reminded us that the issue of our need to build trust among one another – artists, gallerists, collectors, patrons- is one of the most important steps to building community. Another valuable thought related to the idea of a meal or pot-luck was made by Central Trak artist-in-residence K Yoland, meet in a variety of locations to help others feel included.  So it was set, Ratcliff and artist friend will take on this first gathering around the table, a pot-luck, Sunday, June 7th. A Facebook event will soon be posted.
After a few disappointments following grad school, this has given me some hope. Thanks guys.
Read more detail about the conversations here:
Leslie Moody Castro Interview       By Leslie Moody Castro      Witness To Change
The Conversations on Youtube: