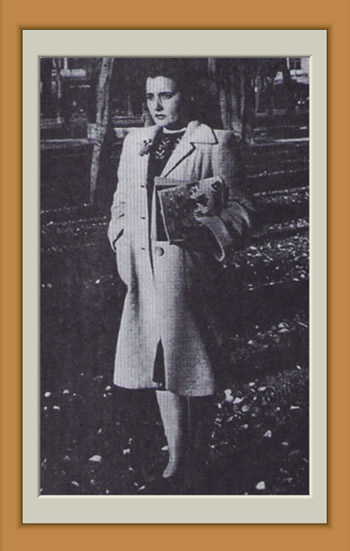 Claudia Lars…Margarita del Carmen Brannon Vega is her birth name; she is also called Carmen Brannon Beers or Carmen Brannon de Samoya Chinchilla. She was born in El Salvador. She studied and lived in the United States, Mexico, Costa Rica, and Guatemala.
Her early work in the 1920s and 1930s was compared to Agustini, Mistral, Storni, and Ibarbourou. She lists as her early influences Cervantes, Fray Luís de León, Lope de Vega, Quevedo, Góngora, Shakespeare, Wordsworth, Burns, Coleridge, Whitman, Poe, Dickinson, Shelley, Byron, Yeats, Blake, and Darío (Barraza 142). Critics called her a lyrical postmodernist.
Sketch of the Woman of the Future
Standing tall in the mud.
Not like the flower's stalk
and butterfly's desire . . .
No roots, no flitting,
more erect, more sure
and more free.
Knower of shadow and thorn,
With miracle held high
in her triumphant arms.
With obstacle and abyss.
beneath her stride.
Absolute queen of her flesh
returned to the center of her spirit:
vessel of the celestial,
domus aurea, home of the golden;
clod where shoots burst forth into
maize and fragrant flower.
Forgotten: the Mona Lisa's smile.
Broken: the spell of centuries.
Conquered: the fears.
Bright and naked in the pure, clean day.
Unequalled lover
in enjoyment of a love so lofty
that no one today could predict it.
Sweet,
with controlled sweetness
that doesn't hurt or intoxicate the drinker.
Maternal still,
without the caress that holds back flight
nor tenderness that traps,
nor submission and giving in, that little by little, smothers.
Pioneer of the clouds.
Guide to the labyrinth.
Weaver of veil and song.
Adorned only in her simplicity.
She stands up from the dust . . .
Not like the flowering stem
that's not so beautiful.